When someone comes to the end of their life we say they have died or they are dead.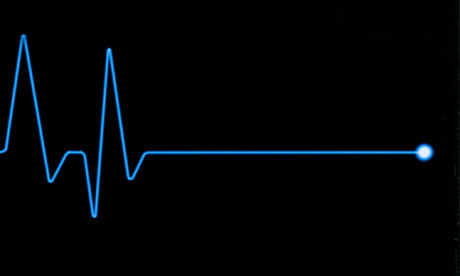 But that is never true of the person who has trusted in Jesus Christ for their salvation.
For the believer who has heard the Gospel message, believed it, and trusted in Jesus to be their Lord and Saviour they are—at the instant of death more alive than they have ever been and in the presence of the Living God.
How do I know that?
When Jesus was sacrificing His life for us He told the believing thief next to Him "today you will be with me in Paradise. Not later—today!
And that promise is good for every person who has a personal relationship with Jesus Christ.
The bad news is that if you go to a funeral to honor someone—to say good-bye, and you have not trusted in Jesus , you will not see get to see that person again. Even worse you will be separated from God forever.
The Apostle Paul wrote:
". . . the word of the cross is foolishness to those who are perishing, but to us who are being saved it is the power of God. (1 Cor. 1:18 ESV)
The Bible tells us that disciples of Christ are merely "strangers and pilgrims on earth" (Heb. 11:13 KJV; 1 Peter 2:11 KJV).
We live in a postmodern/post-Christina era of religious pluralism, moral relativism, and universalism which posit that all religions lead to God. But Jesus Himself declared to us:
"I am the way, and the truth, and the life, nobody comes to the Father except through Me" (John 14:6 ESV)
At the beginning of Revelation chapter 21, Jesus speaks about the new heaven and the new earth. When Jesus comes again this time as Conqueror and King He will then bring in a new heaven and a new earth.
These phrases are not allegory or metaphor. Neither do Christians go to heaven and sit around on clouds.
We will live in eternal fellowship with Jesus Christ . . . and with each other—all things will be made new.
In verses 7 and 8 of chapter 21 Jesus proclaims:
7 The one who conquers will have this heritage, and I will be his God and he will be my son." Who is the one who conquers? The believer in Christ that endures to the end. And his heritage? He will be an heir and son of God.
However in the next verse Christ says this:
8 But as for [the sinner] the cowardly, the faithless, the detestable, as for murderers, the sexually immoral, sorcerers, idolaters, and all liars, their portion will be in the lake that burns with fire and sulfur, which is the second death."
This description of the second death is not allegory either—it is meant to be literal.
A believer that has died is no longer of this earth. Nevertheless they are more alive now than they have ever been. For the true believer death is never the end; it is merely a gate they pass through held open by Jesus.